Double Containment System
Overview
---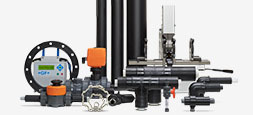 Double containment system with highest safety due to two fully sealed containment zones. The Medium Pipe can be made from different plastics while, the jacket pipe is always in PE100. Various leakage control systems are available.
Standards
---
Inner Pipe Material : UPVC, CPVC, PPH, PE. PVDF, PFA
Outer Pipe Material : Transparent PVC, PE
Temperature range : 50°C to +140°C (depending on medium pipe).
Pressure rating : up to 16 Bar
Main Advantages
---
Suitable for visual inspection and identification
Protection of personnel and environment
Adaptable leak monitoring system
Observance of legal regulations
Main Applications
---
Water treatment
Microelectronics
Chemical process industry
Energy