Overview
---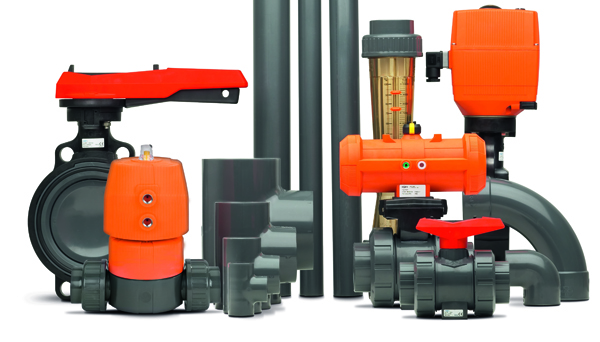 PVC-U shows very good characteristics in the temperature range from 0° to +60°C. Ensuring highest possible thermal stability and chemical resistance PVC-U systems stand up to the most demanding conditions, particularly where media such as acids, alkalis, bases and salts are transported. The universal solution covers all aspects of safety, efficiency and reliability required to build, maintain and operate industrial piping systems.
Pressure rating up to 16 bar.
Temperature range 0°C to +60°C.
ASTM Std
---
Material : ASTM D 1784 (cell classification 12454)
Colour: Grey
Temperature rating : From 0°C to 60 °C
Pipe : ASTM D 1785 - SCH 40 & SCH 80 Pipes
Fittings : ASTM D 2467 SCH 80 Socket & Threaded Fittings – SCH 80 Fittings
Flanges : Flange Hole Patterns - ANSI B16.5
Range : 3/8" to 24"
DIN (Metric) Std
---
Material: PVC-U, Polyvinylchloride unplasticised DIN 8061
Colour: GREY
Pipe: DIN EN ISO 15493, DIN 8062 – PN 10 & PN 16 Pipes
Fittings : DIN 8063, ISO 727, UNI EN 1452 – PN 10 & PN 16 Fittings
Flanges : DIN8063-DIN2501 drilled PN10/16,
Range : 6 mm to 400 mm
Main Advantages
---
Versatility of use
Very good chemical and corrosion resistance
Proven physiological harmlessness and therefore suitable for contact with food
No influence on drinking water quality
Biologically inert; no support of microbial growth
High mechanical tensile strength
Secure solvent cementing using Tangit
Use of tin stabilizers for fittings and valves
Main Applications
---
Water Treatment
Marine
Chemical Process Industry
Microelectronics
Power Plants